create new empty continuous layer with linked cels - nothing less, nothing more.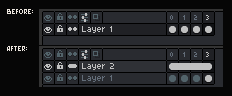 i couldn't find the way how to link cels in new layer, so here's nightmarish script abomination with workaround:
the script creates new temporary sprite, then creates new empty 1x1 image, draws a pixel to create new cel, replaces that cel's image with empty image, adds as many frames as needed, copies the layer, pastes it to the original sprite, renames the new layer and silently closes temporary sprite.
if you know how to do this more elegantly, please let me know.
WARNING: since the script contains sprite.close() command, be sure to save your work first!
app.transaction(
	function()

		local image = Image(1, 1) 
		local sprite = app.activeSprite 
		local colorMode = sprite.colorMode 
		local frame = app.activeFrame 
		local layer = app.activeLayer 
		local numba = #sprite.layers 
		local nuSprite = Sprite(sprite.width, sprite.height, colorMode)
		local nuLayer = nuSprite.layers[1] 

		nuLayer.isContinuous = true 

		app.command.GotoFirstFrame() 

		app.useTool{
			 tool="filled_rectangle", 
			 points={ Point(0, 0) },
			 button=MouseButton.LEFT
		}

		local cel = app.activeCel 

		cel.image = image 

		for i = 1, #sprite.frames-1 do
		  app.command.NewFrame() 
		end

		app.range.layers = { nuLayer } 

		app.command.Copy() 

		app.activeSprite = sprite 

		app.activeLayer = layer 

		app.command.Paste() 

		app.activeFrame = frame 

		app.activeLayer = sprite.layers[numba+1] 

		nnLayer = app.activeLayer 
		nnLayer.name = "Layer " .. numba + 1

		nuSprite:close() 

	end)

TODO: create new layer above current layer, not at the top of the stack