I made it some days ago to practice isometric stuff.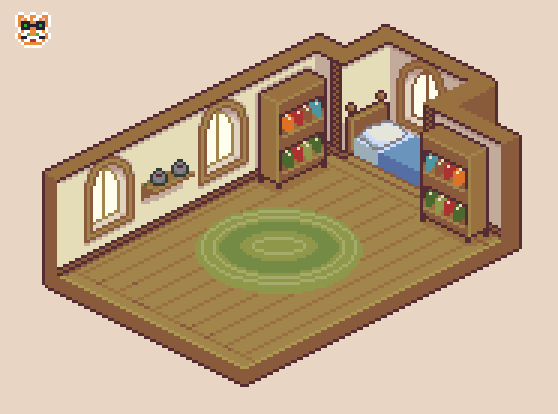 You've got some stairstepping banding along the dark line near the top of the wall, the skirtboard (the dark line on the wall near the floor), bottoms of the windows, and one of bookcases, but other than that, it's looking nice!
Banding is when pixels of different colours line up in a way that makes the apparent resolution of the image feel lower, making it look blockier, and it often causes the different colours to read incorrectly. It's a pixel-art specific type of tangent.
Stairstepping is a particular type of banding where the lined-up pixels form a staircase pattern, common along sloped lines.
There are three major solutions to stairstepping:
Don't include the shading/AA at all, which is what you do in other parts of the image. Might not be appropriate if your goal is shading rather than just AA.
Reduce the shading/AA so that the blocks aren't as large as the blocks making up the lines they're hugging:

Make them larger than the blocks they're hugging (in this edit I left the skirting board AA small since expanding it made it create stairstepping with the lines on the floor):

I don't usually like low-contrast colour use, but it works very well here :D
Thank you very much for the tips ^^