Hi there, I was exporting a group which contains sub-group, containing more children layers. But it appears that those children layers 'ignores' the parent group's visibility flags and are included whenever they're visible, whether or not if the parent group is visible or not.
Here's more details about this behaviour: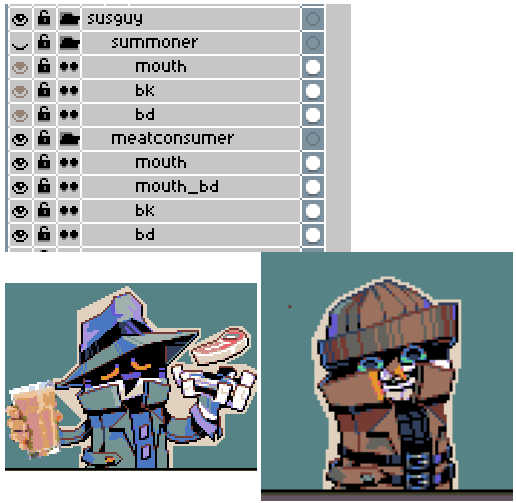 The group
susguy
contains two sub-groups:
meatconsummer
and
summoner
. They contains two spritres (seen above) that I'd like to export separately, via setting one group invisible and visible for another group, before exporting the main group
susguy
.
Normally, the expected result of above setup is an image that only contains one of the sprite shown in the image above. (since only one of them is visible) But whenever I do export,
both
of the groups seem to have exported as if both had their visibilities on – When in reality, one of them had their visibilities turned off.
I assume that this behaviour is happening because the children layers has their visibilities (internally) turned on and are ignoring their parent group's visibility.
To confirm this, I tried to export with the setup where the group summoner has their visibility turned on, while its children layers are invisible – And of course, it resulted in expected behaviour with only one of the groups exporting.
So this must be an issue where the children layers are ignoring the parent groups visibility settings while exporting.
My current Aseprite version is the following: Aseprite v1.3-beta10-x64, Running on my Windows 10 machine via Steam.
I'd be down to give you more details regarding this if needed, since it seems that I cannot embed more than one images in a post for now.
Cheers, ZIK.