Hi everyone,
While I was testing out some grayscale / monochromatic stuff, I had issues with the default Aseprite GameBoy palette. So I made a survey of GameBoy palettes I could find around the internet.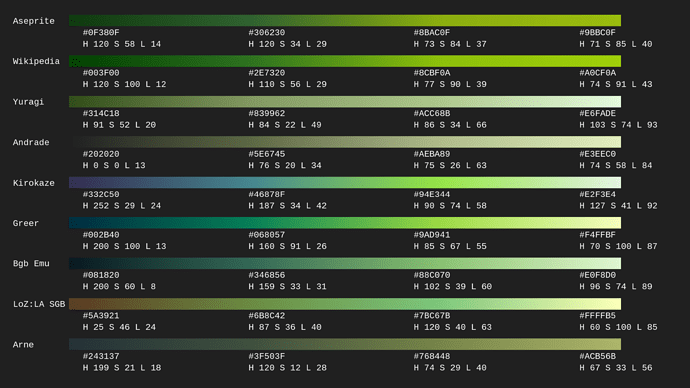 Here are my sources:
All palettes contain 4 colors originally. The ramps above were generated by linear interpolation in RGB.
Here's the same image, but in grayscale (created with Aseprite's to grayscale conversion).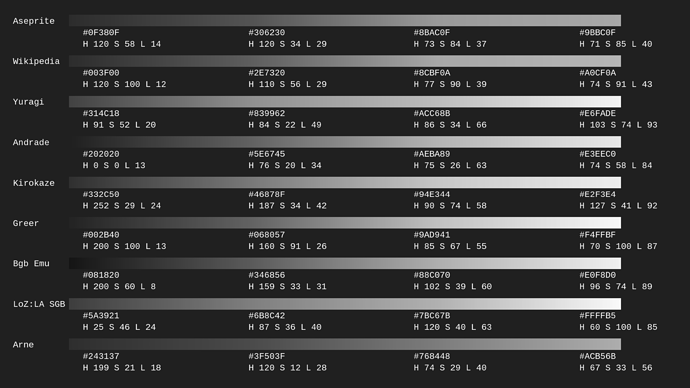 There is typically more variation in luminance between the third and fourth colors, counting from left to right.
For science, I took a "wisdom of the crowd" approach and averaged the palettes together in HSL, except for Aseprite's. Then I converted to RGB. Here's what the computer spat back out:
H 135.83983
S 51.03161
L 16.397058
#143f20
H 122.7701
S 38.075405
L 34.852947
#377b3a
H 88.59005
S 49.863308
L 55.56373
#90c655
H 84.023544
S 71.35483
L 78.77451
#d1efa2
I'm kidding, I realize that's neither a great way to analyze nor create a palette. But if anyone has any recommendations for other classic GB palettes, feel free.
Jeremy