Hi David,
I'd really appreciate it if I could have a more precise way of controlling Scale and Rotation value.
For example in Adobe Animate - if one selects an object and hits the "Scale and Rotate" shortcut keys, one would get a prompt like this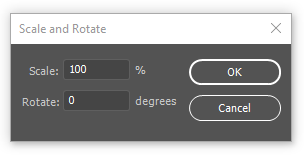 This is extremely helpful if I have many objects that I am trying to scale by a certain percentage (say 50%) or rotate by a certain degree value.
Note: In Animate, the application also remembers the last Scale or Rotation value in the same session, which is pretty handy if one is working on a batch of images.
Thanks