It would be nice to have an Ink mode that lets you select a set of colours like the Shading mode does, and paints with the colour from the set that is most similar in value* to what's already on the canvas.
This mode would make it easy to draw patterns and such on already-shaded objects. For example, here's what it might look like with a green colour ramp selected: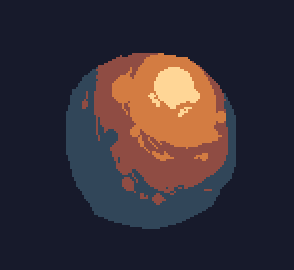 This gif was made by duplicating the layer to be recoloured, recolouring all of it, and then erasing the unneeded bits. This isn't a bad workflow, but it gets tedious quickly when dealing with multiple layers. Another method is to use selections and the fill tool, but this is also tedious, especially when many colours are involved, and it lacks the immediacy of painting with the colours.
* Matching colours by value should work nicely, but this mode could be even more useful by being able to specify an input colour set as well. The index of the input colour that's closest to the canvas colour would be the index of the output colour to use. This extra "translation" step would allow this tool to do things like recolour with a significantly darker/lighter palette or with an inverse value ramp, or to simultaneously paint with several ramps based on hue.