Hey David @dacap !
I often work on one extended file to have at hand all the layers and animations to keep an eye on the consistency of the animated character or object, this creates a very long file with different tags - these tags are the different functions of the character in the form of an animation loop - you know, everyone knows it here.
And now the point, when I prepare the files for the game, I have to save a separate file with each of these animations, so I have to delete all the other animations on the right and left and save a new file or sprite sheet.
The question is, wouldn't it be nice if when right-clicking on a TAG there was an option besides "Delete tag" and "tag properties" to "create separate file from tag"/"new file form tag" or something like that (I made a mock-up of what I mean.) or in the options "split the file into separate animations based on tags". Or a script like this? The code could take into account the main file name + tag name and export the already combined name.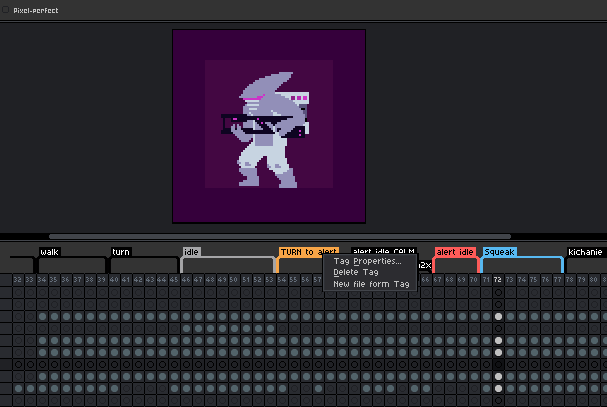 Perhaps my pipeline is eccentric, perhaps not? I'd like to know the opinion here of the community and the developer. What do you folks think?
I've been using Aseprite for 6 years now. It's great to see how this editor continues to evolve and how it's becoming more and more enjoyable and convenient to work on, thank you!
Best regards,
Dariusz!