NEvermind I figured way out forget this post
Dude Thanks so much I love you. Literally instant reply
how do i find the "selected" button?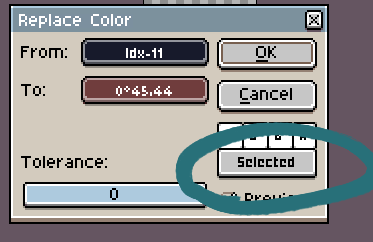 I think this button isn't very clear. Even with the tooltip. You have to click it to see whether it does anything and what the alternative is, and a lot of people are very shy about that. I think using some more space and using a radio group would be clearer.
thank you! but actually i guess the problem i s i can't find this "replace color" dialogue box
It's under the Edit menu, and you can also open it with Shift+R.