Hi! I created a extension to import old MSX image files like:
SC1, SC2, SC3, SC4 (tiled modes)
SC5, SC6(*), SC7(*), SC8 (indexed bitmap modes)
SCA, SCC (YJK coded bitmap modes)
With v1.2 the extension can write/export the bitmap modes:
SC5, SC6, SC7, SC8, SCA, SCC.
(*): Pixel aspect ratio can now be changed from a script, so SC6 and SC7 files changes pixel aspect ratio automatically.
Go to File->Import MSX image file to open the import dialog.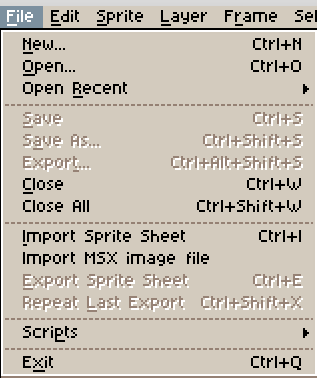 You can download the extension here:
And here you can download images for testing: