Hey Folks,
Just kind of puzzled on how to fix this issue. I was just trying to open Aseprite via Steam and just noticed it wouldn't open at all. I have enclosed a video of this happening.
In regards to this, I have tried using my terminal and debugging it, but it strangely takes me to the trial version of Aseprite. I have also tried going into Steam and setting some launch properties in how I can launch Aseprite, but still to no avail can I launch Aseprite at all.
I have even followed a couple of other possible solutions as seen in this forum, but still I can't even open Aseprite.
Possible Solutions- Webpages I've Been To
https://www.aseprite.org/docs/debug/#steam
https://www.aseprite.org/docs/reset-preferences/
https://www.aseprite.org/docs/troubleshooting/
If there's a solution to my issue, do please let me know as soon as possible if you can. It would certainly be greatly appreciated.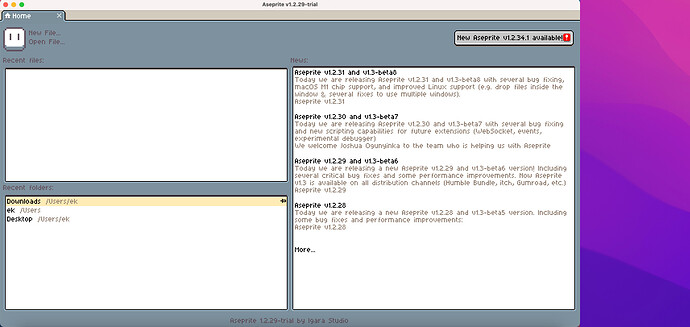 chrome-extension://mmeijimgabbpbgpdklnllpncmdofkcpn/app.html#/files/b6b1f6e1-2371-4ae9-yfad-8f6b3c944abf
chrome-extension://mmeijimgabbpbgpdklnllpncmdofkcpn/app.html#/files/d2b95d6f-6305-4a05-yda1-dbf145b67266
chrome-extension://mmeijimgabbpbgpdklnllpncmdofkcpn/app.html#/files/4c761879-9e1d-40a3-y546-a9e3b6aedb4d
chrome-extension://mmeijimgabbpbgpdklnllpncmdofkcpn/app.html#/files/b6b1f6e1-2371-4ae9-yfad-8f6b3c944abf