I got a lot of small 4-5 color palettes for different purposes, but I wish I had them all in one ~128 sized palette. Eventually, it becomes messy and sometimes ends up in inserting some unused colors so that palette align is one sub-palette per row. The request is the following:
allow to group colors under a name, colors don't lose their original indices;
allow to add an already existing palette or a part of it as a group;
allow to reorganize color groups layout without colors losing their original indices;
colors in color group preserve all original editing/moving functions.
(optional) allow a color to be a part of different groups, modifying such color will prompt user (can be disabled), where they can choose to either modify original color in all groups or add a new one to the master palette.
Something like this: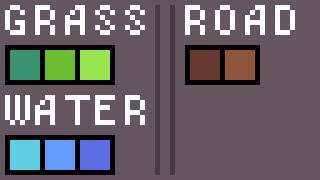 It is always possible to switch back to normal palette view.
Pros:
you keep your colors organized;
no more reference sprites;
other artists in your team don't have a need to recheck colors, nor manage multiple palettes.
Cons:
where to store this? In *.ase directly or separately as a new format? Document templates?