Today we are releasing the new Aseprite v1.3 which includes more than 3 years of work


You can get Aseprite from http://www.aseprite.org/ (remember that your purchase includes a Steam key, then you can switch to the beta channel to get this update)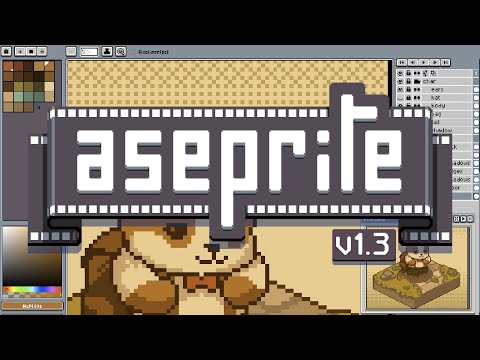 Aseprite v1.3-beta1 new features:
Aseprite v1.3-beta2 fixes:
Use octree-based color quantization on all cases by default: now it support alpha channel too
Fixed pixel perfect mode in some cases in regular layers #2748
Fixed crash clicking combo-boxes at the bottom t/9254
Fixed theme issue with timeline configuration (bug report)
Fixed updating editor scroll after enabling the Tiled Mode
Fixed Adjust Hue, File > Export, etc windows that don't appear in certain cases t/9327
Fixed white/black flash on Windows/macOS when showing a new native window
Fixed several bugs with some stylus (e.g. XP-Pen) on Windows where we weren't able to move tabs, click buttons, etc.
Fixed bug on Windows with Snipping Tool (was sending the window back)
General performance improvement on all platforms (better response time & less battery usage)
Aseprite v1.3-beta3 fixes:
Use octree-based color quantization on GIF encoder
Fixed issues on Windows where the windows border where cropped t/9441
Lua: Fixed usage of Dialog.bounds with the new multiple windows UI t/9277 bug on Steam
Aseprite v1.3-beta4 changes:
New mouse/pen stabilizer #2371
Improved the ellipse algorithm #2217
Windows: Fixed leak of GDI objects for each closed window
Fixed crash using Cel Properties dialog in some cases
Fixed mouse cursor when the selection is visible
Available in the beta branch from Steam, it will be there for a couple of weeks and after some bug fixes we'll publish the new version on all distribution channels.